Choosing the best exercise shoes for whatever sport/hobby you are doing is really important, but we're not always given enough information on what to look out for when buying particular kinds of shoes. On this website, we give you all the information you need before picking shoes, and some recommendations on some of the best brands to buy.
Advice on choosing the right exercise shoes for you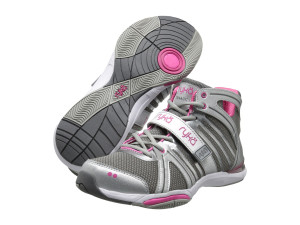 The key thing about exercise shoes is that there are very big differences in the type of shoe that you need for different types of sports. If you use the wrong type of shoe for the exercise that you are doing you could very easily injure yourself. For example, running shoes need to have good flexibility with plenty of cushioning and grip, while walking shoes should be a lot stiffer and Zumba shoes need to have a pivot on them where there is no grip.
Know the shape of your foot
There are two good ways to  find out the shape of your foot
Wet your foot and stand on a piece of brown paper then trace the outline
Simply look at which part of your shoe has the most wear on an old pair of shoes.
Comfort
Your shoes should fit you right away, they shouldn't need breaking in, so if they are uncomfortable don't buy them or send them back.
Your heel should fit pretty snugly and should not slip out when you walk.
There should be about a thumb's width between the front of your big toe and the point where the shoe ends. You should be able to move all your toes freely.
The top part of the shoe should fit snugly and be neither too tight nor too loose. If you are buying shoes in a store rather than online, make sure to take your own socks along with you so you can be sure that the shoes fit with the socks that you generally use.
Cost
Don't go for either the most expensive or the cheapest pairs. The most expensive pairs will often be very fashionable and may have had a lot spent on marketing them and celebrity endorsements, this doesn't necessarily mean they are better shoes.
But if you go for a cheap shoe you will certainly get less quality and find that you need to replace them sooner or they are not as effective in doing what you want them to. So in general avoid the cheapest shoes.
Replacements
It's important to know when you need to replace your shoes. When the soles start looking worn out or the shoe feels less supportive than they were, it's likely to be time for a new pair. The advice on running shoes is that you should replace them after 400 miles of use, which isn't that much really.
Special features
Even if you don't have a foot that needs extra features you might want to get them. For example there are all kinds of extra support and cushioning available on shoes which can make your exercising more enjoyable and less painful.
Exercise that you definitely need specialized shoes for:
Zumba has become massively popular in recent years but many people don't realize that you need special shoes for it, or you could damage yourself, your knees in particular. This is because regular types of trainers usually have a strong grip on th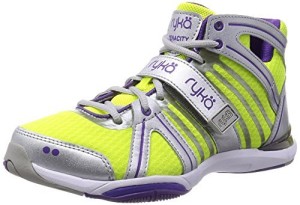 em. This is great for running, or in sports where you want your feet to grip to the ground. But in Zumba you want your feet to move from side to side and if your shoes are gripping to the floor then they will not be able to do this. The feet will be stuck in position and the legs trying to turn from side to side – leading to possible damage to the knees. So make sure you always buy a special pair of shoes for Zumba.
Take a look at our in-depth look at what other factors you should be considering when buying Zumba shoes, and at our recommendations for the best Zumba shoes to buy in our Complete Guide to Buying the best Zumba Shoes.
Crossfit has also soared in popularity in the past few years. But all-purpose sneakers are not ideal for doing crossfit. You really need a pair of shoes that are very lightweight and flat, with little difference between the amount of drop down at the heel and at the toe. Take a look at our indepth guide to what factors you should be considering when choosing the best crossfit shoes.
Hiking shoes
it's particularly important to choose the best hiking boots because if you don't you could be in for some considerable discomfort if they start rubbing and causing blisters when you are on a hike. What type of boot you should choose will very much depend on the type of terrain you are planning to walk on, the weather conditions and the amount of time that you will be hiking for.
Take a look at our indepth guide to hiking boots – what factors you should be looking at when choosing boots and our pick of some of the best boots you can buy in our Complete guide to buying the best hiking boots.