Can't I just use running shoes?
When you are first starting off with cross fit, it's perfectly understandable that you'll just want to use your normal running shoes. After all you're not sure if you'll enjoy it and whether you want to carry on with it. Running shoes are also useful because they give more protection than cross fit shoes, which is good when you are first starting off.
However, once you know that you'd like to carry on with crossfit it is well worth investing in a pair of specialist shoes. Also, running shoes are not generally great for the overall health of your legs and feet.
What to look for in a Crossfit shoe
Great functionality
Crossfit shoes should be flat with very little drop down to the toe from the heel and this is one of the main things you should be looking out for.
Lightweight
Lightweight is best because you don't want to have an excess weight on your feet to be carrying around.
Strength and durability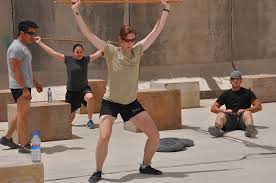 It's important for your shoes to be providing good protection, particularly if you are outside in them and not to fall apart after a few months.
Because of the different exercises involved in Crossfit it is not as easy to choose a shoe as for other sports. The shoes that you need for running for example will be very different from the best shoes for weight lifting. You could either have different shoes for the different activities or simply choose a pair of shoes for the exercise that you spend most time doing. The majority of crossfit shoes tend to be more similar to running shoes, so if you spend most of your time doing this then they'll be no problem, however if you also do a lot of weightlifting you might like to also get a pair of weightlifting shoes. Weightlifting shoes are generally much more solid and stable and have a big drop from the heel to the toe which makes squatting easier.
Breathability
It's important to have a very breathable pair of shoes so your feet don't get too sweaty and uncomfortable. But be aware that breathable pair of shoes won't be so good if you do a lot of exercising outdoors in poor weather as they'll get very wet.
Best crossfit sneakers for beginners.
When you are starting off Crossfit it's best to choose some very supportive shoes. This is because your feet are not yet strong and need plenty of help. If you're not careful you could leave yourself at risk of knee and feet problems.
Best crossfit sneakers for experts
If you're an expert at Crossfit then the best shoe for you will depend on what your aims are. You might start getting a variety of different shoes for the different activities that you take part in.
How to buy the shoes
Try and read as many reviews as you can of shoes that you're interested in. After that make sure you get the shoes from a store or online shop that has a strong reputation so that you can return the shoes if you need to.
Reviews of some of the best shoes for crossfit
Reebok Crossfit Nano 3.0 Mens
These are a strong but lightweight pair of shoes and certainly among the best crossfit shoes for men. The shoes have ETC anti-friction linking – this help to stop any cuts and bruises and to keep heat build up to a minimum. They are very stable so are excellent for weightlifting. Although they are also ok for jogging and running they don't have any arch support so are probably not the best choice if you do a lot of long distance running. They are also not so good on wet surfaces because of their tread.
Inov-8 Bare-XF 210 Shoe
These shoes are very lightweight with hardly any sole, you can almost feel the ground. They do however still provide good protection but are not so good on hardwired indoors.
New Balance Men's MX20v3 Minimus Cross-Training Shoe
This set of New Balance shoes combine excellent stability and breathability with being very light. They are best used for weightlifting, they have a 4mm heel to toe drop, and are not so good for running. Some users say that they wish the shoes had more grip but others are happy with it.
Inov-8 F-Lite 195 Lightweight Racing Shoe
Inov-8 F-Lite 195 is a well built but minimalistic pair of shoes. They have less support than running type shoes and are best for more experienced cross fitters or exercisers who should have strong feet and legs. They have a mesh upper and a TPU met cradle which gives more stability.
Reebok Crossfit Nano 3.0 Womens Sneaker
The Reebok Crossfit Nano 3.0 are more stable than the 2.0 version, so are better for doing weight lifting. They also have an ETC anti-friction lining which helps protect against abrasions and keeps heat levels down. They are a good looking shoe and among the best crossfit shoes for women.
Check out other exercise shoes here.
If you are looking for Zumba shoes check out our complete guide to buying Zumba shoes.
If you are looking for hiking boots check out our complete guide to buying the best hiking boots.