Is it necessary to have special kind of footwear?
Yes, the best Zumba shoes are specially designed for the demands that the dance puts on your feet. Many people start off using the footwear that they normally use for other kinds of exercise, such as running, however they quickly realize that they don't work well for dancing. The reason for this is that running footwear has a very good grip. This is great for running in different weather conditions, when it is wet perhaps, and on hard surfaces outdoors. However this grip will mean that when you try to turn your legs in a different direction when doing a Zumba move, your feet could get stuck to the floor, and be unable to move while the rest of your leg is moving. This can lead to damage to your knees or other parts of your legs.

Our pick of the very best Zumba Shoes for 2023
What to look out for when choosing the best shoes for Zumba
Comfort Even if they have a lot of amazing features, they'll be no good to you if not comfortable, comfort is the most important feature you should be looking for.
Lightness You want to be light on your feet, so to avoid feeling heavy footed try and get a light pair. Unless that is you need lots of protection for you feet, in this case you will probably have to get a slightly heavier pair.
The importance of a pivot point
The vital thing to make sure your sneakers have is a pivot point. The pivot point is what allows you to turn when you move. If you don't have a pivot point, then you could have too much grip, could stick to the floor when you move and damage your legs when you try to twist them.
Soles that are shock absorbent
Zumba can be quite hard on the feet as it's an energetic form of exercise, and having a good sole can really help to protect your feet. Footwear that is designed for it often has  thicker soles than other exercise shoes and helps stop any bruising that can occur otherwise. The only problem with a thicker sole is that you tend to have less feeling in your feet. If you want to avoid this then  choose a pair with a thinner sole, they allow you to have more feeling and to be able to keep the beat better.
The heel counter
A heel counter is the part that supports the heel. It will provide support and stability for the feet. But make sure that you get an achilles notch, otherwise the backs of your feet could rub, and this could cause damage to your feet. More experienced dancers don't tend to bother with heel counters because their feet have become strengthened and it isn't necessary for them.  
Breathability
Trainers need to be very breathable because dancing is very physically intensive and you will get sweaty all over. But at least this is great for losing weight.
Stability
It's important to have plenty of stability to be able to support all the different moves that are involved in a dance routine – turns, slides and jumps for example. Wide-soled pairs are particularly useful for providing the support that you'll need.
Space for toes
It's important to make sure that you have plenty of space for your toes when you are exercising, and be sure that you check this. not when your toes are relaxed, but when they are stretched out, because this is how they'll be when you will be standing on your toes  
Stylish It's obviously always nice to be wearing something that looks good.
Check your surface Different types of footwear suit different surfaces, so check what type of surface the venue you are thinking of going to has.  A pair that would be ideal for carpet could be far too slippery for a polished hard surface.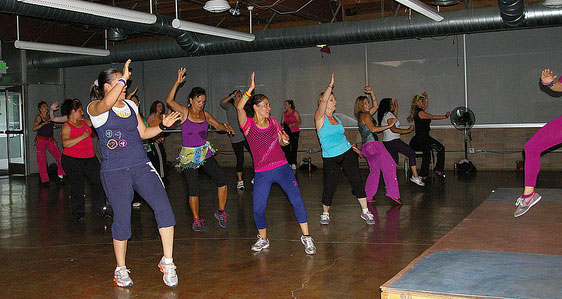 Types of Zumba dance sneakers
The Solid Sole
These provide good support for the arch of the foot and are used widely by both beginner and more experienced dancers. They are very good for people who have either high feet arches or who have flat feet.
Split 
These are generally only used by more experienced dancers or by people who have strong feet from doing other sports particularly walking or running or for those who walk barefoot a lot. They allow more flexibility for the foot because they have no midsole on them. But this also means that there is no arch support on them, hence why they are not generally suitable for beginners.
Mid 
These are different because they cover all of the ankle which means that they offer lots of stability and lots of support. However it also means that they are less flexible. They are often favored by people who are starting out and by people how have feet problems.
Low 
These only reach below the ankle and are the opposite of the mid in that they offer less support and stability but do offer a lot more flexibility and freedom.
Is it ok to use running sneakers?
It's very common for people to use their regular running sneakers when they are first taking classes, since they don't yet know if they're going to enjoy it and there seems no point buying a new special pair which you may only wear once or twice. However these are not good for dancing because they lack a pivot point and also offer too much grip. As soon as you've decided that you'd like to carry on going beyond a couple of sessions it's worth looking at buying a specialized pair, you'll really notice the difference that a pivot point will make.
The top brands
Ryka
Ryka is a very well known manufacturer who specialize in women's footwear. Because women's physique is very different to men's, Ryka's philosophy is that they should have a completely different type of footwear. There are far more female dancers than male and Ryka's Zumba shoes are very popular with them. Their sneakers are generally very light, but stable and have pivot points, and breathable mesh. Many models also contain removable ortholight insets.
Bloch
Bloch started life off in 1932 in Australia making ballet pumps. Over the years they have expanded out into making a range of other shoes. They are well-known for their split sole dancing sneakers such as the Bloch Boost. These look quite strange but if your feet are strong they are much more flexible than solid sole ones.
Capzeio
First set up in Italy in 1887 Capezio are also well known for making ballet pumps. The DS24 are their recommended footwear for Zumba and are a high quality split sole.
Reebok
A very famous sports manufacturer, their products are generally flexible and lightweight with pivot points.
Nike
Another very famous sports manufacturer.
Asics
Asics make the Gel series which are popular because of their gel cushioning inside.
New Balance  sneakers are also well-regarded as are Puma ones.
Best Zumba shoes for women – reviews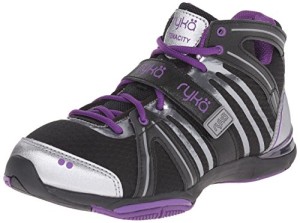 RYKA Women's Tenacity Dance Training Sneaker
These trainers continue Ryka's reputation for making excellent Zumba goods. They have excellent support and are very comfortable, and great looking.  Find out more here.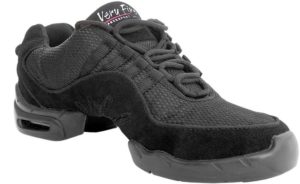 Capezio Women's DS24 Rockit Dance Sneaker
The DS24 is made by the famous shoe manufacturer Capzeio and is a suede, synthetic and mesh shoe. They have both an achilles notch and a boxed toe and a special arch to give better ventilation and breathability. Find out more about them and see our review here.
Bloch Boost Dance Sneaker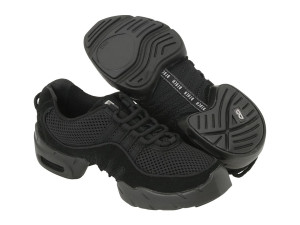 Bloch  are a very famous name in dance footwear. The Boost are very light but comfortable. Because they have a split sole they feel almost like wearing a ballet pump. This means that they're not as stable as a solid sole but they are much more flexible so are recommended for more advanced dancers rather than beginners.  Find out more here.
Reebok Women's Dance UR Lead Mid 
These Reebok sneakers offer a much greater amount of ankle support than many other do. And they also offer a lot of arch support which will be useful for some dancers. They are most likely to appeal to beginner dancers who need more feet support, or those people who already have strong feet from doing other exercises. Buy now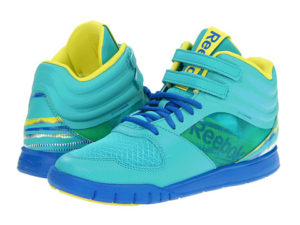 Best Zumba dance shoes for Men
Men and women have different shaped feet and therefore need different types of exercise footwear. If you are searching for a new pair of dance trainers, the key thing to remember is that unless the pair you're looking at says either 'for men' or 'unisex', you can presume that they are for women – the vast majority of zumba dancers are women.
When choosing a pair you want to make sure that they are comfortable and well-fitting. So what are the top zumba sneakers for guys?
Sansha Hi-Step Dance Sneaker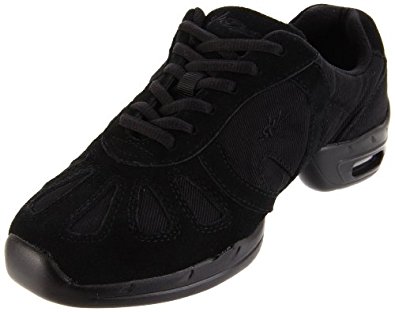 These Sansha hi-steps are a split sole which gives you extra flexibility. They also have an air cushion on the heel which provides extra comfort and support. Make sure that you get a shoes that is a couple of sizes bigger than your American size for them to fit properly. Click here to get the best price for the Sansha Hi-Step Dance Sneaker.
Find out more about Zumba for Men.
Interested in trying Crossfit? If so check out this article.